Mugello Kangaroo Mix Race
Jednoczęściowy kombinezon sportowy dla najbardziej wymagających motocyklistów
Zapewnia wysoki poziom ochrony dzięki wielu wyjmowanym ochraniaczom z certyfikatem CE, wstawkom ze skóry kangura i dwuwarstwowym panelom skórzanym. Zawiera tylny garb, który również poprawia aerodynamikę. Wiele perforowanych obszarów i elastyczne wstawki zapewniają najlepszy komfort.
Read full description
Choose your color: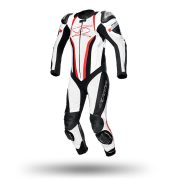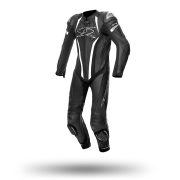 Mugello Kangaroo Mix Race
Wodoodporna skóra bydlęca 1,2 / 1,3 mm z wodoodpornymi wstawkami ze skóry kangurzej 0,9 / 1 mm. Wstawki z rozciągliwego włókna aramidowego. Wyjmowana wewnętrzna podszewka z siatki z elastycznymi obszarami.
Zewnętrzny ergonomiczny materiał kompozytowy i ochraniacze TPU na kolanie.
Wyjmowane ochraniacze z certyfikatem CE na ramionach, łokciach i kolanach.
Kieszeń na plecach na protektor ze znakiem CE poziomu 2 w rozmiarze 2.
Amortyzująca wyściółka boczna.
Wstawki ze skóry kangurzej na ramionach, rękawach, bokach, nogach. Perforowana skóra bydlęca na przedniej części, rękawach, nogach i łydkach.
Skórzane elastyczne strefy na łopatkach, z tyłu talii i za kolanami.
Elastyczne wstawki z włokna aramidowego na ramionach, kroczu i z tyłu kolan.
Wstawki z elastycznej tkaniny o wysokiej wytrzymałości po bokach i na brzuchu.
Garb, zapewniający lepszą aerodynamikę.
Podwójna warstwa skóry na bokach i z tyłu spodni.
Amortyzująca wyściółka na ramionach, bokach i dolnej części pleców.
Zamek błyskawiczny na rękawach i u dołu nogi z systemem "flat-lock" (suwak auto locking i anti-floating).
Neoprenowa wstawki na kostce i mankiety na nadgarstku. 1 wewnętrzna kieszeń. Slidery w zestawie.
Protektory zgodne z normą PN-EN-1621-1:2012.
4Racing
Employment of cow leather for sporting purposes of kangaroo leather with a resistance to abrasion of more than 2000 Martyn Dayl cycles, more than 70kg/Newton tear resistance, no use of chemical products harmful for man, ex test (warm and cold), CE 1621-1 race use certification. To make a leather suit for track use 6 meters of cow leather (weight 5,5 kg), or 8 meters of kangaroo leather (weight 4,2kg) are needed.
AIR
The AIR products guarantee an appropriate ventilation thanks to extended net inserts or breathable perforated leather of dierential weaves, further than the several perforated inserts in the zones where transferring outside of the body heat is needed.
Reinforced
The seams reinforced with heavy duty yarns add durability to most abrasion and tension stressed parts
of the garment.
X-STRETCH
Special construction technology implying the use panels in innovative Elastomere combined in weaving
with polyammidic yarns with high tenacity (x-stretch fabric) to guarantee optimal comfort and t thanks to
the bidimensional elasticity. In the racing suit the x-stretch fabric is coupled with a leather panel, which, thanks to special gusset seams stretches lengthwise and in width, allowing to the rider agile and comfortable movements.
Kangaroo Mix
Kangaroo leather inserts on shoulder,sleeves, sides and legs.
Water repellent leather
Leather on this suit is water repellent thanks to special treatment.
Reflective zones
This suit is equipped with some special reflective panels.
Elastic pannels
Accordion leather elastic pannels for comfortable movement and riding.
Spyke logo HIGH TECH shoulder protector Tepex®
Spyke logo HIGH TECH shoulder protector made from Tepex®
TEPEX® stands for minimum weight / maximum performance and superior energy absorption. The continuous fibres throughout the thickness provide maximum available strength and stiffness.
Technical properties of TEPEX®:
Excellent fatigue resistance
Excellent crash energy absorption
Good chemical resistance
Sliders
Replaceable knee sliders for track with strong velcro.
CE approved protectors
Removable CE approved protectors with PN-EN-1621-1:2012 on shoulder elbow and knee.
Take your measurements
Size charts present human body dimensions – not garment.
Chest: measure around the chest horizontally at the widest point
Waist: measure around the narrowest part of your waist
Hip: measure around the widest point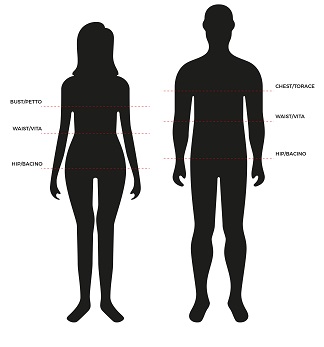 | | | | | | | | | | |
| --- | --- | --- | --- | --- | --- | --- | --- | --- | --- |
| ITA | 46 | 48 | 50 | 52 | 54 | 56 | 58 | 60 | 62 |
| DE | 46 | 48 | 50 | 52 | 54 | 56 | 58 | 60 | 62 |
| FR | 46 | 48 | 50 | 52 | 54 | 56 | 58 | 60 | 62 |
| UK | 36 | 38 | 40 | 42 | 44 | 46 | 48 | 50 | 52 |
| USA | 36 | 38 | 40 | 42 | 44 | 46 | 48 | 50 | 52 |
| INTERNATIONAL | XS | S | M | L | XL | XXL | 3XL | 4XL | 5XL |
| CHEST/TORACE | 90-94 | 94-98 | 98-102 | 102-106 | 106-110 | 110-114 | 114-118 | 118-122 | 122-126 |
| WAIST/VITA | 80-84 | 84-88 | 88-92 | 92-96 | 96-100 | 100-1004 | 104-108 | 108-112 | 112-116 |
| HIP/BACINO | 90-94 | 94-98 | 98-102 | 102-106 | 106-110 | 110-114 | 114-118 | 118-122 | 122-126 |
| HEIGHT/ALTEZZA | 164-170 | 167-173 | 170-176 | 173-179 | 176-182 | 179-185 | 180-185 | 181-186 | 181-186 |